Our Near Neighbours Co-ordinator Sotez Chowdhury blogs on his first month at CTC, and how Christians can use Ramadan to build relationships and act with Muslims on issues of common concern:
It's four weeks since I've joined the team here as the Near Neighbours Co-ordinator and it's already been quite a time. Being managed by priests, based in a crypt, getting to grips with what an archdeacon actually is … Many have asked what is like to work in such a context. I answer that what has been remarkable is the way I have been welcomed so warmly. I see the love of my Christian colleagues for Jesus and God, and I see compassion for others in their way of life – now even more so as we have just entered into the Holy month of Ramadan.
Many will know that Muslims fast from dawn to dusk, restraining from food and water and other desires. What they may not appreciate is that this time of the year is dedicated to the worship of God because this was the month that the Holy Quran was revealed. This is a time of the year where Muslims have a particular opportunity to really live out their five pillars of their faith: worshipping God through remembrance and performing Salah (prayers), conducting Sawm (fasting), paying zakat (giving alms) and performing Hajj (pilgrimage).  It is also a time for family, friends and neighbours from all backgrounds and religions. Here in East London, I have come across many examples that I have come across of Churches and Mosques are jointly planning iftaars (meal for breaking the fast). Here in Shadwell, the last few years have been particularly fruitful. Through community organising, local churches and one particular mosque have been building relationships and acting on issues of common concern. Later this month, there will be an iftaar at the mosque to plan further action on issues including affordable housing and community safety. These relationships have gone beyond church and mosque into the home. There is now a regular iftaar run by Muslim sister in her home –a fabulous feast with wonderful conversations.
For many Muslims in the UK, Ramadan is the longest period of fasting in their lives – almost 19 hours, given the times of sunrise and sunset. It is humbling that many Christians are joining us to break the fast late evenings as part of their commitment to their neighbours. In some cases, church halls have been offered for the late night prayers in places were the Muslims communities have not yet been able to establish mosques that can accommodate everyone.  These acts do not go unnoticed amongst Muslims. This week's news has seen mass killings, political assassinations, and growing tensions between nation states. In the midst of all this, there is hope in breaking bread together.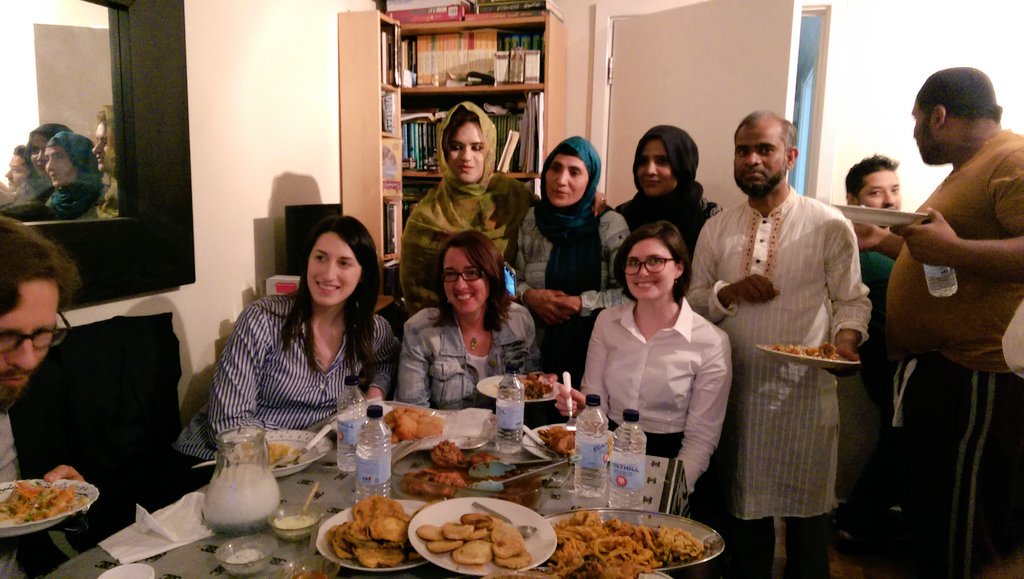 Ramadan is a month of charity as well as worship and fasting. Many hours are dedicated to raising awareness for cause and fundraising for the destitute and desperate. In this time of increased activity and energy, there is a great opportunity for Christians to involve themselves in these causes – whether the support takes the form of monetary contributions, volunteering time, offering space in the church or lifting them up in prayer. A lot of the focus this year will be on the international humanitarian and refugee crisis. As Muslims will give and do more during this month for their love of God, it is entirely possible for Christians do the same in keeping with their faith and love of God, with the aim of getting justice for all those that are suffering.
This of course is at the core of the both religions, but common action requires effort from both sides. Churches and mosques should both take deeper interests at each other's calendars, as what we will discover – whether it is Ramadan and Eid or Lent and Easter, all of them involve some level of restraint and of thanksgiving, and provide opportunities for building relationship and identifying issues of common concern for common action. This is not only the mark of sincere respect, but the basis on which we can start to rebuild the fractured communities which our religious institutions seek to serve.